"My wife picked me out of a soccer sticker book. And I chose her off the telly. It felt straight away like we'd always been meant to be together," David wrote in his memoirs soon after his wedding to Victoria. On July 4, 2022, this bright couple celebrated their 23 years together even though many people didn't believe their marriage would last that long. "And they said it wouldn't last! From the minute we got married—and here we are about to celebrate 23 years," Victoria said in a tongue-in-cheek comment.
Children from different worlds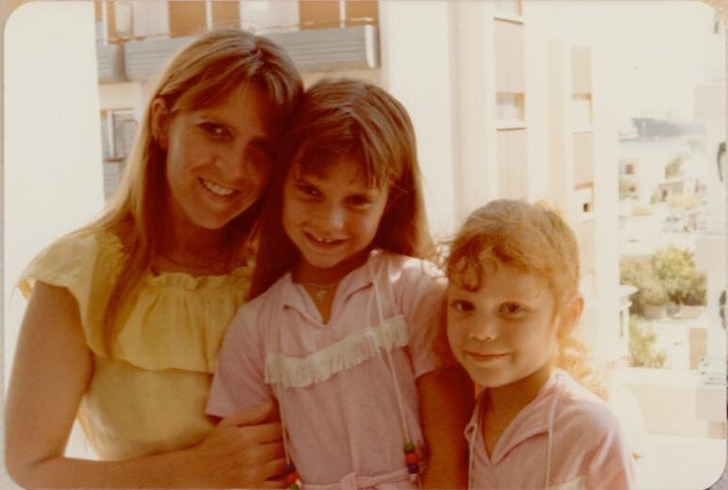 © victoriabeckham / Instagram
Victoria with her mother and sister
Victoria Adams (this is the maiden name of the future star) grew up in a well-accommodated family but was embarrassed by her wealth. She begged her father more than once not to drop her off outside her school when he gave her a ride in their Rolls-Royce so the other kids wouldn't tease her.
David was born into a family with a much more modest income: his father worked as a kitchen fitter, and his mother was a hairdresser. From childhood, he was fond of football. In an interview, Beckham said that at school, when teachers asked him what he wanted to do in life, he always answered that he would be a football player. And they said, "No, what do you really want to do for a job?"
But that was the only thing the boy wanted to do. And his effort bore fruits: at the age of 14, he signed schoolboy forms at Manchester United.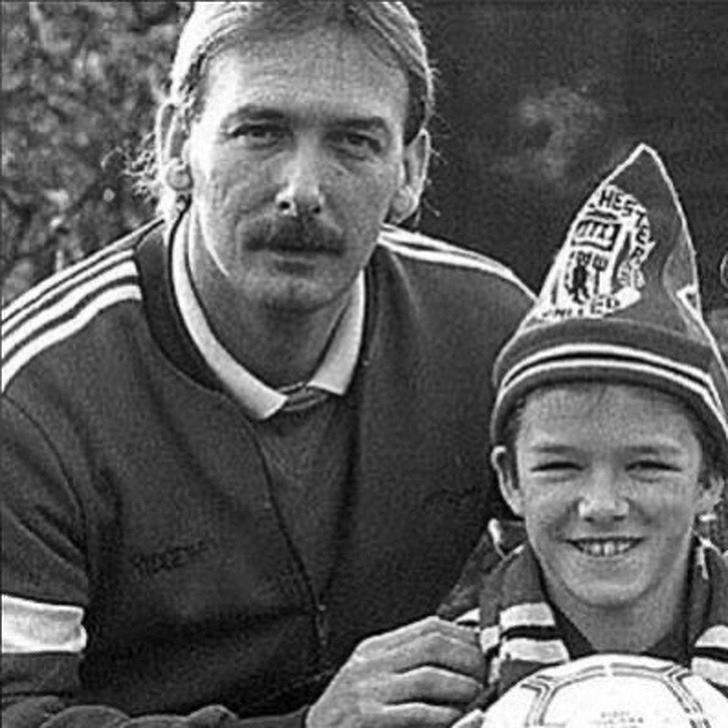 © davidbeckham / Instagram
David and his father
As a teenager, Victoria spent most of her time singing and dancing, which helped her get cast for the Spice Girls group. So Victoria became one of the members of the super-popular band and was nicknamed 'Posh Spice'.
Love at first sight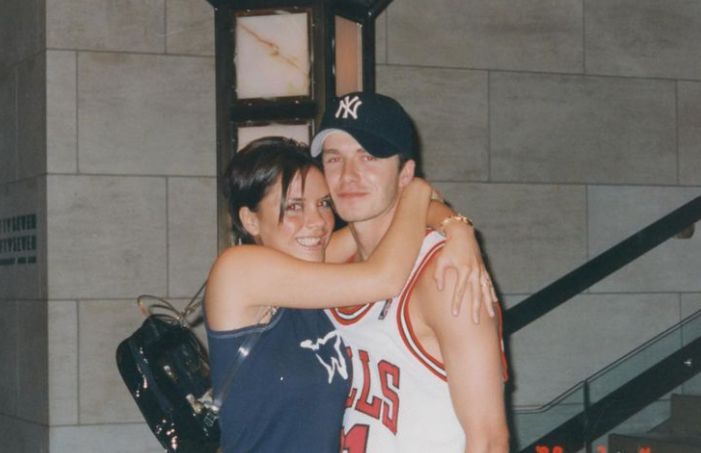 Victoria once said that she fell in love with David when she first saw him in the Manchester United players' lounge in 1997. At the time, he was accompanied by his family. Victoria noticed that he had a "very sweet smile."
Then David also saw Victoria but was too shy to approach her during that first meeting. Instead, he "just waved at her."

However, he confessed that "he liked her." The football player recalled that back in 1996 he saw her in a Spice Girls music video, and her black jumpsuit stunned him. At the time, Beckham said to his teammate, "That's the girl I'm going to marry."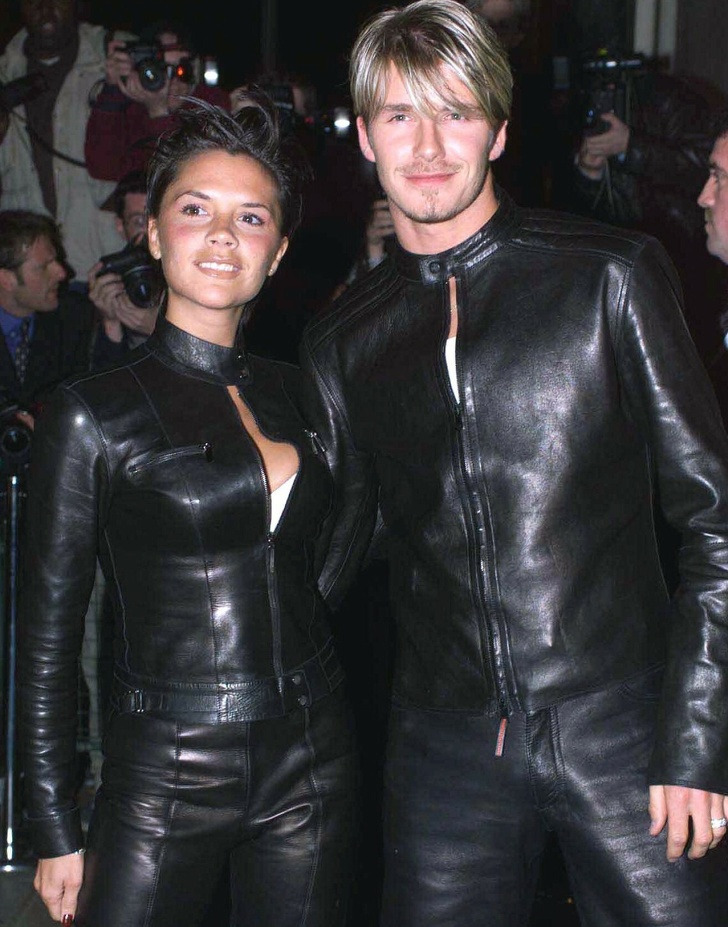 LFI / Photoshot / REPORTER / East News
David was a bit upset because he missed his chance to ask Victoria out during their first meeting, but he was lucky to meet her again at the stadium a week later. So David plucked up the courage to ask for Posh Spice's phone number. She wrote it on a plane ticket from London to Manchester and, by the way, David still keeps this ticket.
Secret dates and engagement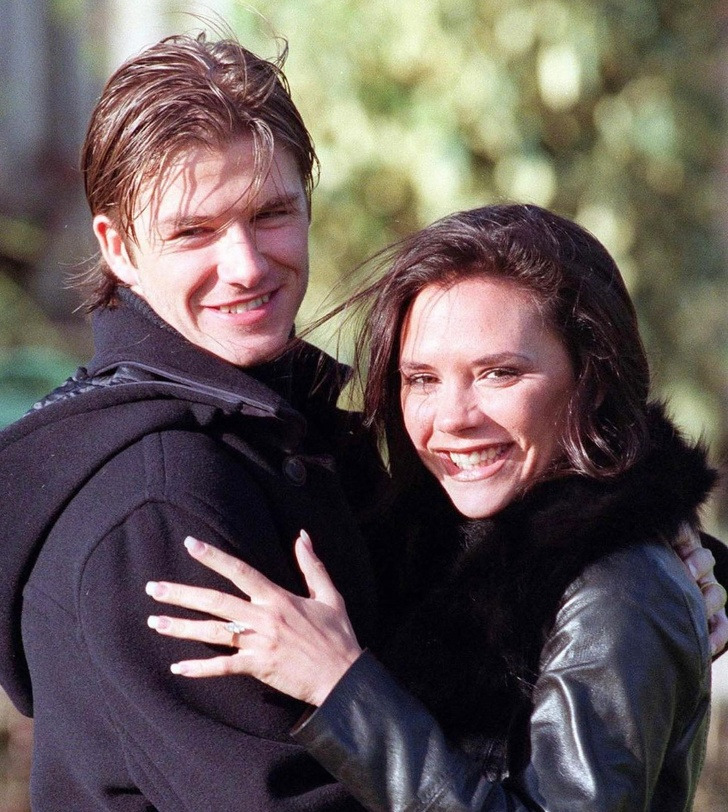 © davidbeckham / Instagram
To avoid unnecessary publicity, David and Victoria decided to keep their romance a secret. They used to meet at a parking lot in David's blue BMW and just talked and kissed in the car. However, it's worth noting that Victoria let David kiss her only on their fourth date.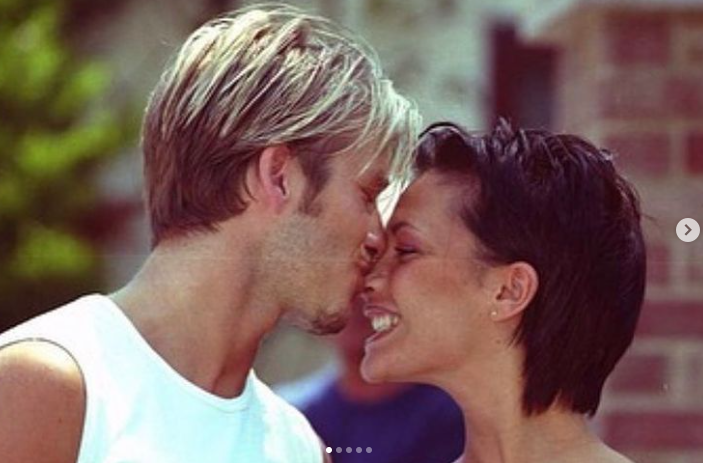 Soon David decided to propose to Victoria during their holiday together. Victoria later recalled, "We were sitting there in our dressing gowns when David pulled out the ring, got down on one knee, and said, 'Will you marry me, Victoria?'" It's worth mentioning that Victoria surprised him too—she had also bought a diamond-encrusted gold ring for David. After saying yes to her future husband, Victoria took out the ring and said, "Don't forget Girl Power, will YOU marry me?"
In 1998, the couple officially announced their engagement and was nicknamed "Posh and Becks."
Scandal and their first child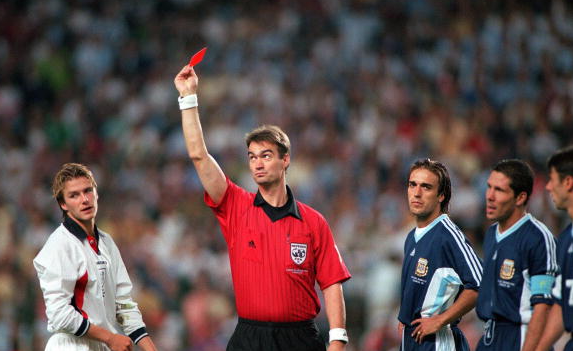 It might seem that this was a happy ending to the couple's love story, but suddenly David had serious professional problems. At the World Cup during the England-Argentina match, Beckham succumbed to the provocations of his opponents and was removed from the field, which decided the outcome of the game. From a national hero and the public's favorite, David immediately turned into an outcast: the press called him a stupid boy and the main culprit in the loss of the match. After the game, the football player flew straight to New York, where the Spice Girls were performing, to meet his fiancée.
According to David, he wouldn't have coped with what happened without Victoria. "She didn't say anything, just gave me a big cuddle. She was about a month pregnant—no one knew except us. Once I was with her I knew I would get through it," David said to BBC News.
In March 1999, their first child, Brooklyn, was born.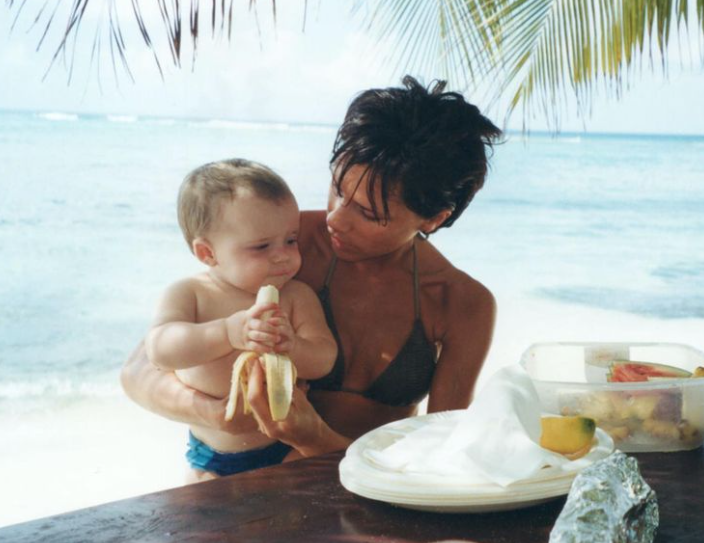 By the way, the baby boy was named after the New York district where Victoria and David were living when they found out that they were expecting a baby.
Wedding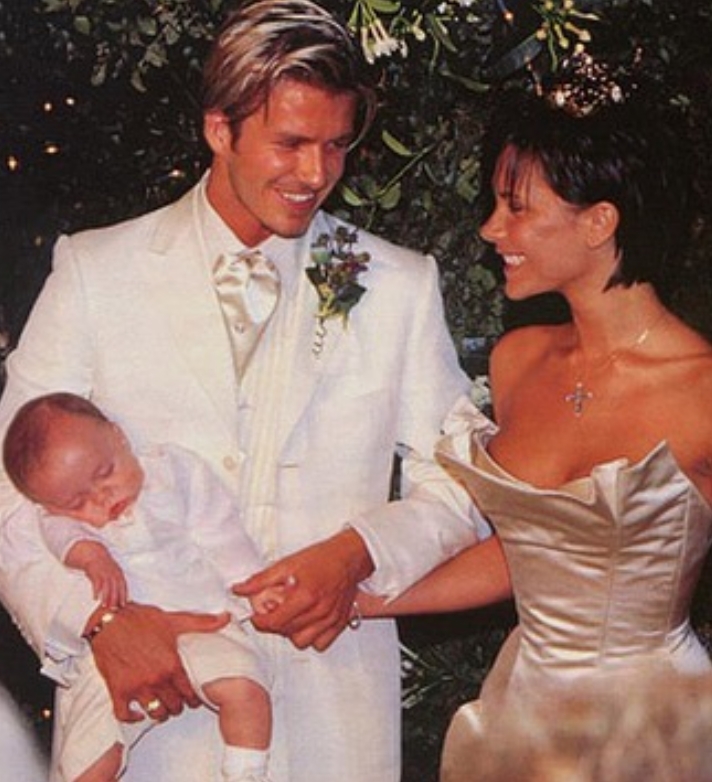 The wedding took place in the Luttrellstown Castle, located in the outskirts of Dublin. The newlyweds chose the theme of Robin Hood for their event, so the main colors of the wedding were burgundy, dark green, and bright purple.
The bride's dress deserved special attention. The luxurious gown was designed by Vera Wang, it was made of silk and complemented by a 20-foot train. Victoria completed her look with an 18K gold tiara. The groom and 4-month-old Brooklyn wore white suits.
Later, the newlyweds changed their clothes and appeared before the guests wearing purple outfits by Antonio Berardi.
A few years later, David confessed in an interview that he wasn't happy about the way he looked, "Victoria's [outfit] was pretty nice. Mine, I'm like what was I thinking? I look like the guys out of Dumb and Dumberwhen they went to that party and wore those ridiculous outfits. I even had a top hat in purple. Unbelievable. What was I thinking?"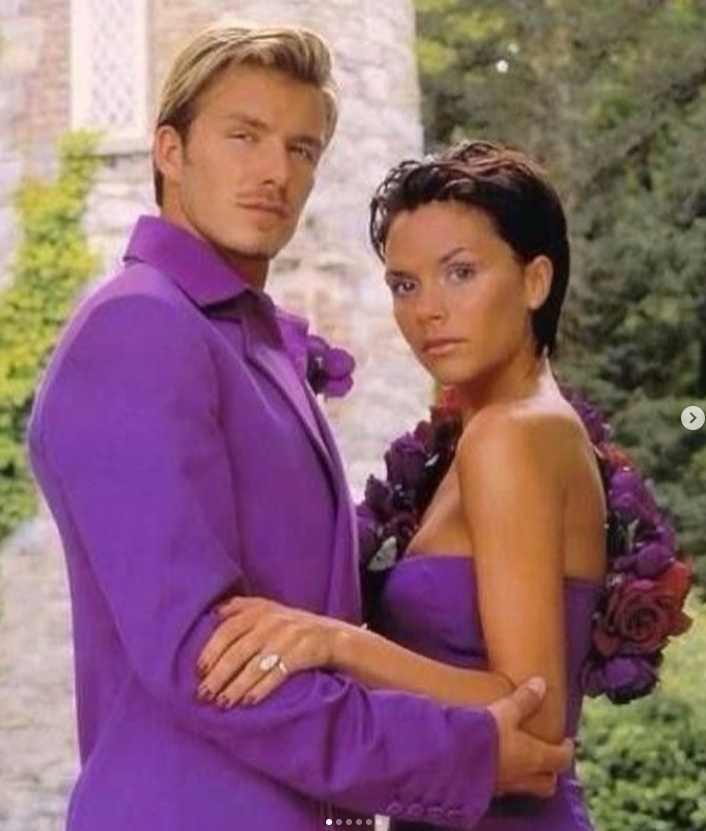 Although the wedding was truly lavish, only 29 guests witnessed the couple exchanging vows in their "secret ceremony" which took place in a small chapel away from the castle.
David told Victoria's parents that he would "treat her like a princess, which she always wanted to be treated like." Also, in his speech, he noted that Victoria seemed to get more beautiful every time he saw her. He added, "I know that a lot of people say that we've done it the wrong way round—had Brooklyn and then got married—but if you've got love, nothing else matters."
Big family and sudden hardships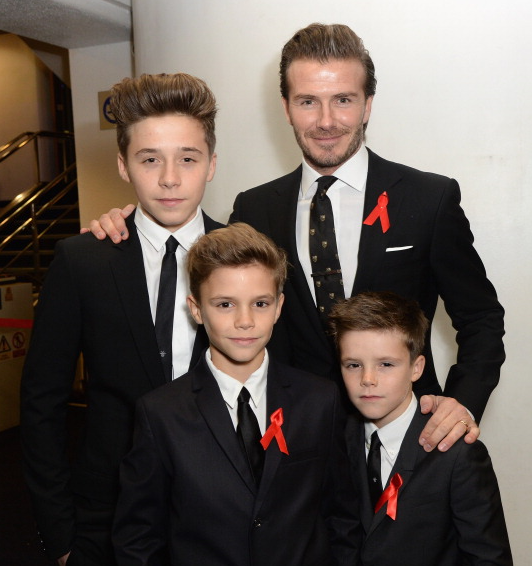 In 2002, the Beckhams became happy parents for the second time: their son Romeo was born. At the time, David said, "You're always nervous having children but it's the most beautiful thing in the world, so we're both delighted."
Suddenly, two years later, the seemingly perfect marriage was compromised by sensational press allegations that David was having an affair with his assistant. The news caused a huge stir in the media, but David issued a statement in which he called all the allegations "laughable." Victoria supported her husband and said to the spiteful critics, "I'm not going to lie, it was a really tough time. It was a hard time for our entire families. David and I got through it together. No one said marriage was going to be easy. Yes, there have been bumps along the road. But we've come out stronger and happier. It's even better now than when we were first married."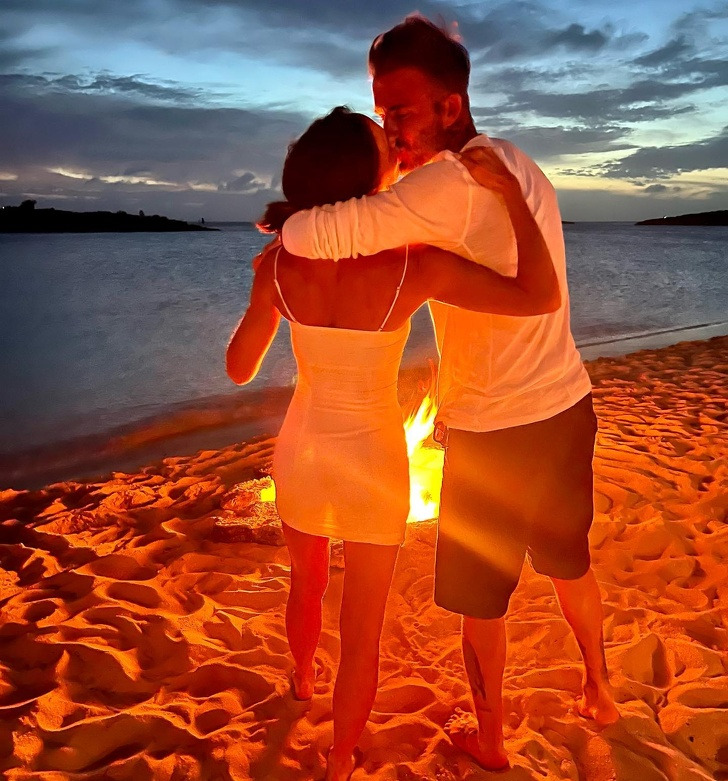 © davidbeckham / Instagram
The Beckhams left this story behind, and in February of the following year, they had their third son, Cruz. "He's gorgeous, healthy and his mum is very good so we're a very happy family. He's got Victoria's lips and nose," the proud dad said.
But they didn't stop there. In 2011, their first girl, Harper Seven, was born. "Baby Harper is the most beautiful baby girl I have ever seen," Victoria tweeted. "I have fallen in love all over again. We feel so blessed and the boys love their baby sister so much."
The Beckhams' secret of a happy family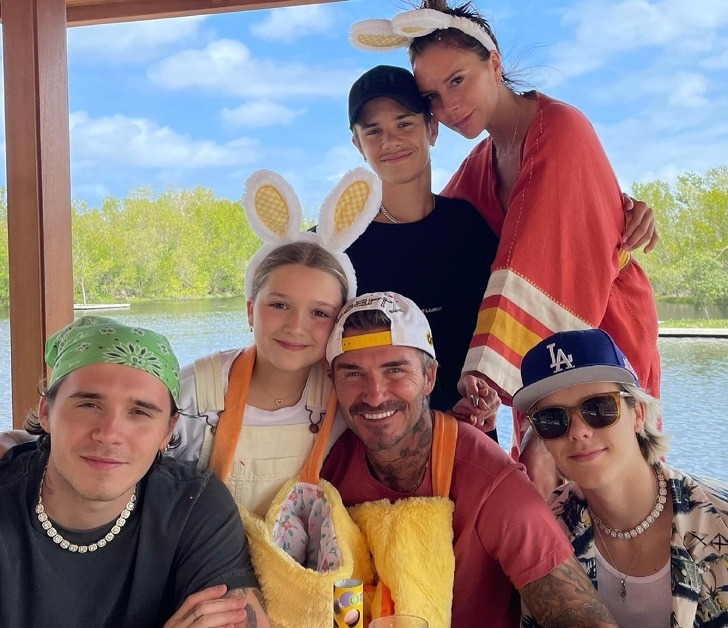 © davidbeckham / Instagram
A few years ago, David opened up about the realities of marriage, saying on a TV show, "To have been married for the amount of time that we have, it's always hard work." Yes, the Beckhams are easy to admire: they are glamorous, beautiful, and incredibly successful, but behind all this, there is real work and, of course, love.
Speaking about the secrets of a happy family, Victoria emphasizes that she and her husband "have so much respect for each other" and adds that "David is an incredible dad and husband, and he's very supportive of my work. We are really good partners." It's not difficult for him to make dinner, stay with the children or take them to the museum while his wife is busy with her projects. In addition, the spouses don't forget to spend time together. According to Victoria, they travel a lot on business and do charity work, but they always find time for each other.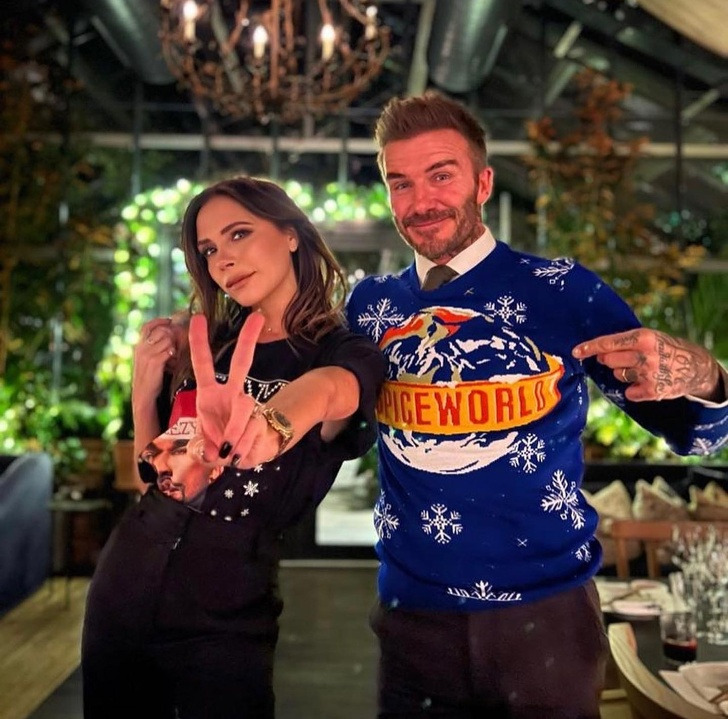 David, on the other hand, believes that the key to a happy relationship is strong family values that will help overcome other difficulties. On their 17th wedding anniversary, he posted their wedding photo and wrote, "Wow 17 years ago to the day this happened… I was lucky to meet someone who has the same drive and wanted the same things in life… We have created 4 beautiful children. I couldn't wish for a more loving and caring mummy for them… Happy anniversary. I love u."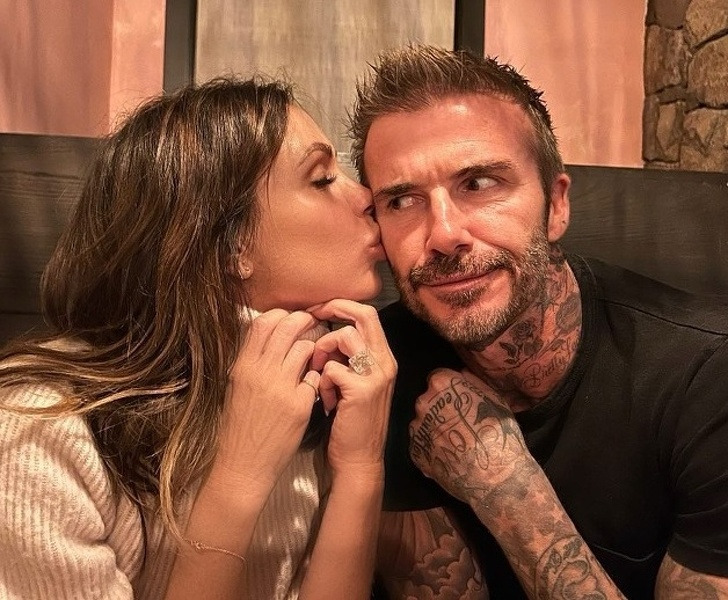 © davidbeckham / Instagram
In early 2017, the couple decided to renew their wedding vows. But, unlike their luxurious wedding in 1999, this one was quite private—it was attended by only 6 people.
A few months after this event, Victoria said of her husband, "He's my soulmate. He's the most incredible husband. We complement each other. He inspires me every day, with the children, with the way he treats me; it just works. We are lucky to have each other."
Being for more than 20 years together is quite a long time, don't you think? What is the secret of such a long relationship in your opinion?