People have accused Kim Kardashian of 'wealth privilege' after she claimed that her beauty standards are 'attainable'. 
In a recent interview with Allure magazine, the 41-year-old was asked whether she felt "responsible, even guilty for setting an unrealistic, unattainable beauty standard" for her followers.
However, the mum-of-four insisted in the interview: "If I'm doing it, it's attainable."
She then explained how she's never called on lip or cheek fillers, or eyelash extensions as part of her beauty routine. She did admit to having Botox and nightly 'laser treatments', though.
Onlookers have since branded the reality star as 'out of touch' with her comments on her high-end beauty rituals.
"'If i'm doing it, it's attainable' literally makes me seethe. She is Kim Kardashian," one Twitter user wrote, while another tweeted: "Every time she tries to make herself seem relatable she just shows how completely delusional and out of touch she is. f*** off already."
"Yeah no it's not @KimKardashian you have wealth privilege. Many people including myself don't. Tone-deaf and out of touch," someone else noted on the platform, whilst a different reader added: "This part killed me. Can she not hear herself? Does she think everyone has money and a TV show?"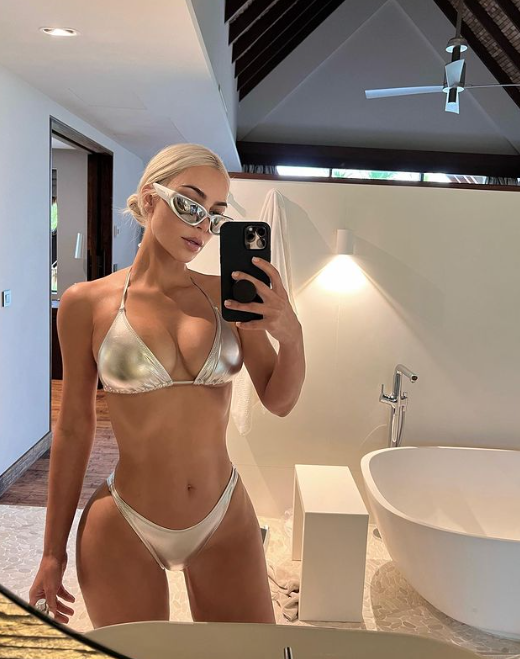 Meanwhile, a beauty critic who was said to have worked on Kardashian's app opened up on her 'attainability' claims, stating that the way Kim looks online isn't reportedly the same as how she looks in real life.
"AND!!! it's not 'attainable' for her either! When I worked on Kim's app we employed a full-time photoshop artist & nearly every photo of her was edited before publishing," Jessica DeFino tweeted in response.
Elsewhere in the interview, Kim revealed that the diet she endured in order to fit into Marilyn Monroe's dress at the Met Gala caused her to have psoriatic arthritis.
The fashion mogul admitted she lost 16 pounds in just three weeks in order to fit into the gown, which was famously worn by the late Hollywood star when she sang Happy Birthday to President John F Kennedy.
Because the dress in question is a priceless piece of American history, it couldn't be altered for Kim's dimensions and so she went on a short but strict weight loss plan, which meant switching from her usual vegan diet to eating meat again. 
But losing well over a stone in such a short space of time came with some serious after-effects, causing Kim's psoriasis to flare up.