Some animals, at a glance, seem so similar to each other that even avid Animal Planet viewers may inadvertently confuse them. For example, a jaguar and a leopard or a llama and an alpaca. Let's get this straightened up right now: the first pair of animals differ in body structure, type of spots on the skin, and length of their tail. As for the llama, it differs from the alpaca in fur, the shape of the muzzle and ears, as well as body size.
1. Hawk and Falcon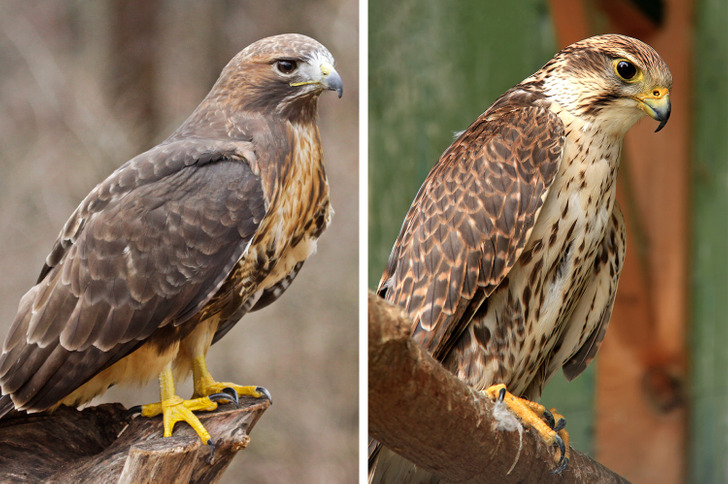 © Depositphotos.com, © Depositphotos.com
The biggest difference between these two birds of prey is their size. Falcons are smaller than hawks. However, they have two other equally obvious differences — the unique characteristics of their wings and the way they hunt. A hawk's wings are short, wide, and rounded, while a falcon's are long, thin, and pointed. When hawks catch their prey, they use claws, while falcons use a so-called 'tooth' (a special notch on the side of their beak).
2. Nutria and Muskrat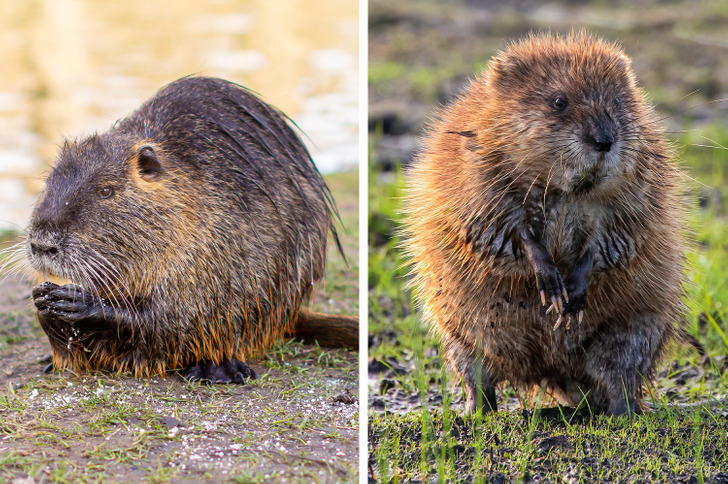 © Depositphotos.com, © Depositphotos.com
These rodents look very similar, but there is a difference between them. Firstly, muskrats weigh less (1.3 — 4.4 lbs) than nutrias (9 — 20 lbs). Secondly, their tails are very different. The muskrat's tail is thin, scaly, and flattened on the sides, while the nutria's is thick, rounded, and covered with rigid fur. The nutria also has three distinguishing features — a white spot on its muzzle, webbed hind legs, and large bright orange teeth.
3. Salamander and Lizard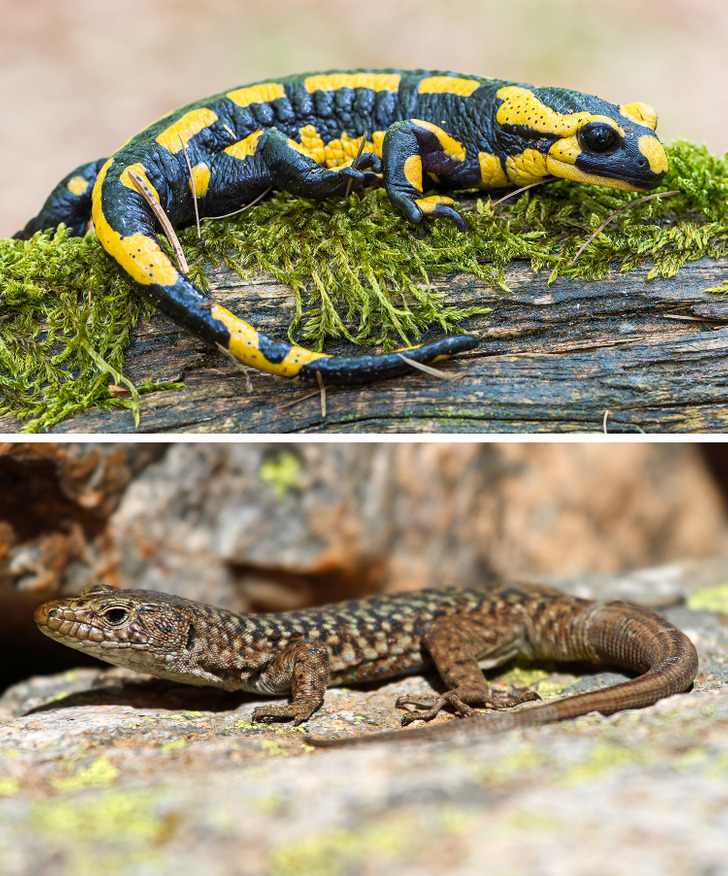 © Depositphotos.com, © Depositphotos.com
Some species of salamanders and lizards are actually very similar to each other, but the main difference between them is that all salamanders are amphibians, while lizards are reptiles. Also, salamanders have no ear holes or claws and their skin appears smooth and wet to the touch, whereas lizards are covered in rough scales.
4. Frog and Toad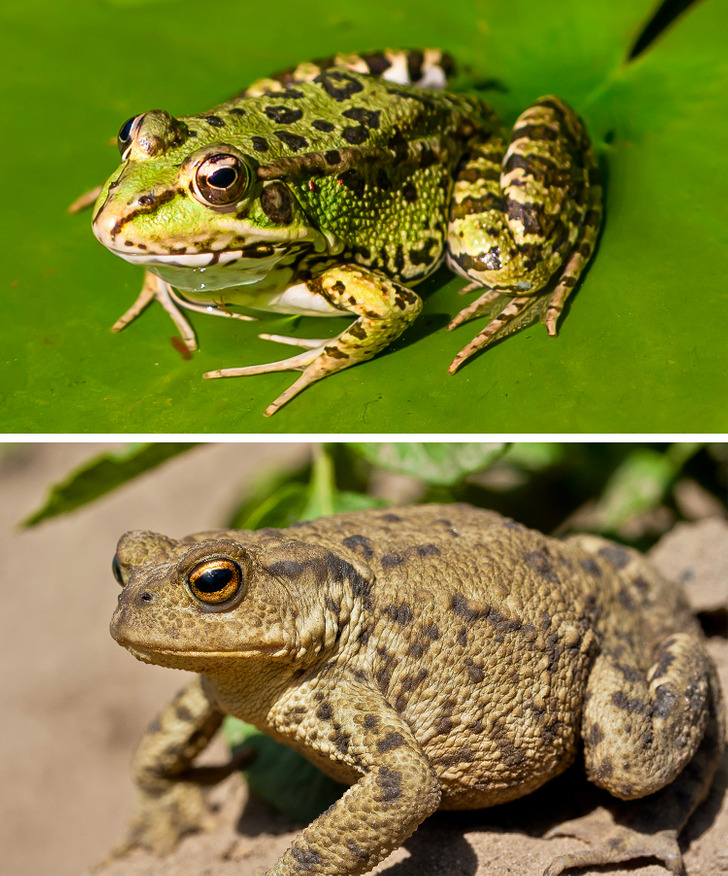 © Depositphotos.com, © Depositphotos.com
Although both frogs and toads are amphibians and are similar in many other ways, they do have some distinct differences. Frogs generally have long legs. Also, since they spend most of their lives in, or near water, their skin is usually wet. Toads, on the other hand, have short legs and live on dry land, so their skin is dry and bumpy.
5. Opossum and Possum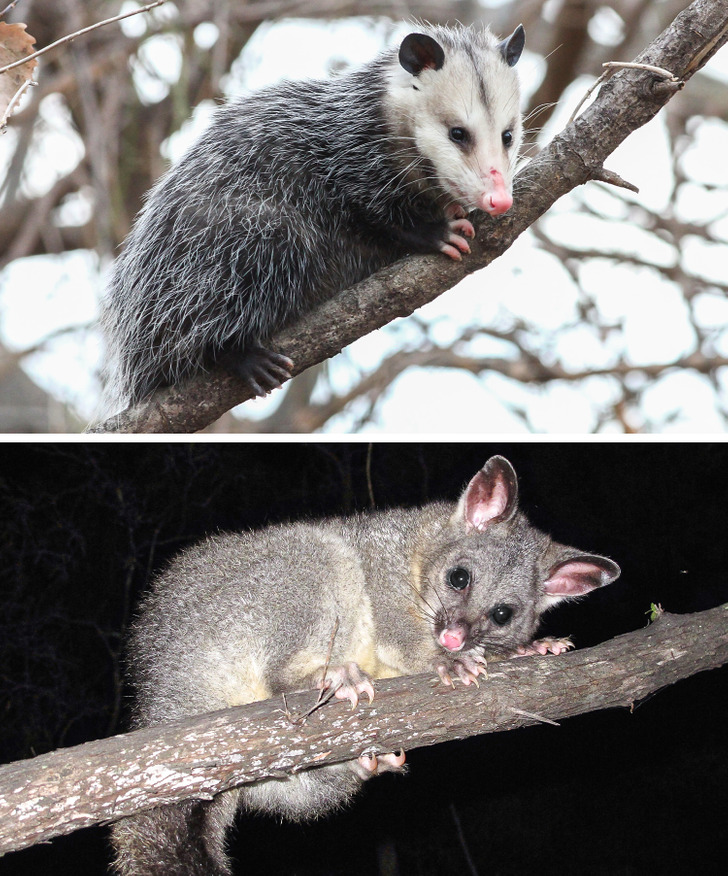 © Depositphotos.com, © Depositphotos.com
Opossums and possums are marsupials and have similar names, but that's where their similarities end. Opossums, for example, are native to North America and are characterized by their grayish-brown fur, white snout, and a completely naked, rat-like tail, which they can use for clinging to branches. Possums, on the other hand, live in Australia and are mostly silvery gray, brown, black, or cream colored, with a dark snout and a fluffy tail.
6. Monkey and Ape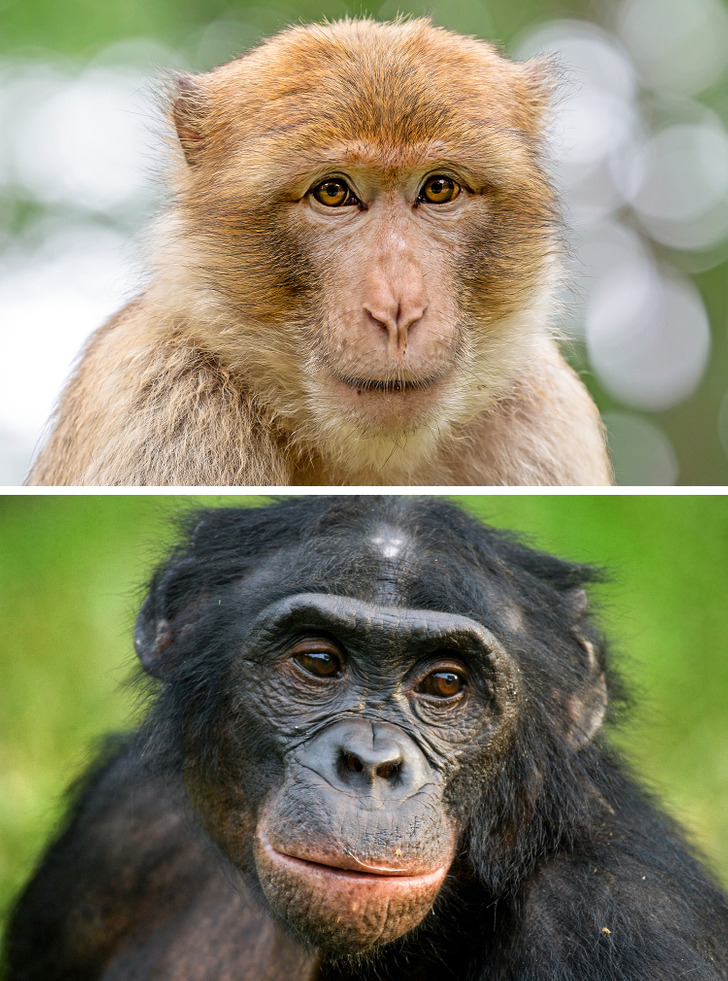 © Depositphotos.com, © Depositphotos.com
Although all monkeys and apes are primates, there are many differences between them. The easiest way to tell them apart is to look at the tail. Most monkeys have one, while apes don't. Another obvious difference is their physique. Apes are much larger than monkeys, with a broad chest and shoulders, and long arms.
7. Fox and Black-backed jackal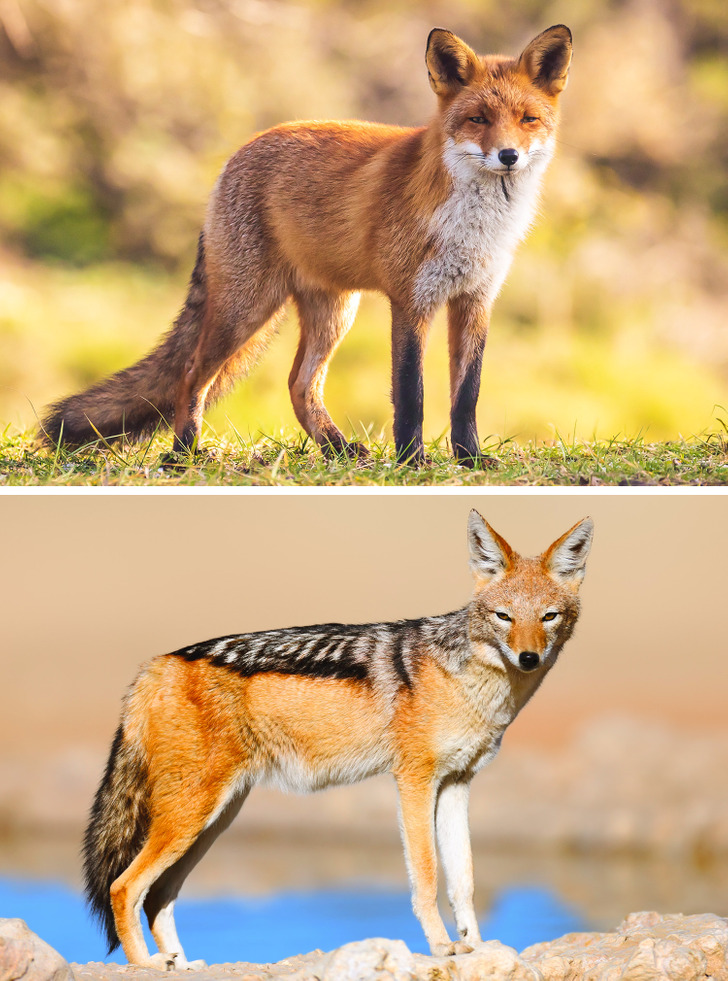 © Depositphotos.com, © Depositphotos.com
At first glance, the fox and the black-backed jackal may appear quite similar, but they do have some distinct differences. The fox, for example, has pointy, triangular ears, a pointed, slightly upturned muzzle, relatively short limbs, and a long, fluffy tail. The black-backed jackal, on the other hand, has a longer body, long legs, and large ears. But the main difference is the signature black saddle on the jackal's coat across its back.
8. Grasshopper and Locust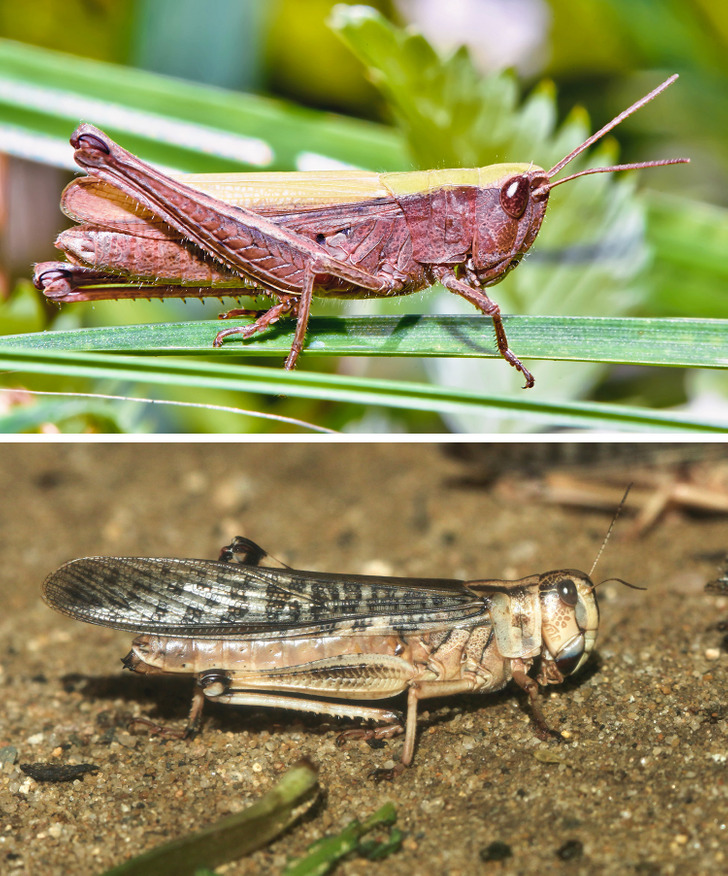 © Depositphotos.com, © Depositphotos.com
Despite their outward resemblance, these insects are, in fact, different. Although interestingly enough, we have to point out that locusts are not a separate species. It's actually a species of grasshopper, which, due to certain circumstances (like dense vegetation growth after a drought, for example) becomes gregarious, changing its color, behavior, and reproductive habits.
Grasshoppers have long and powerful hind legs, which enable them to perform their signature high jump. Locusts, on the other hand, have shorter legs, but longer and stronger wings, which allow them to fly long distances.
9. Pangolin and Armadillo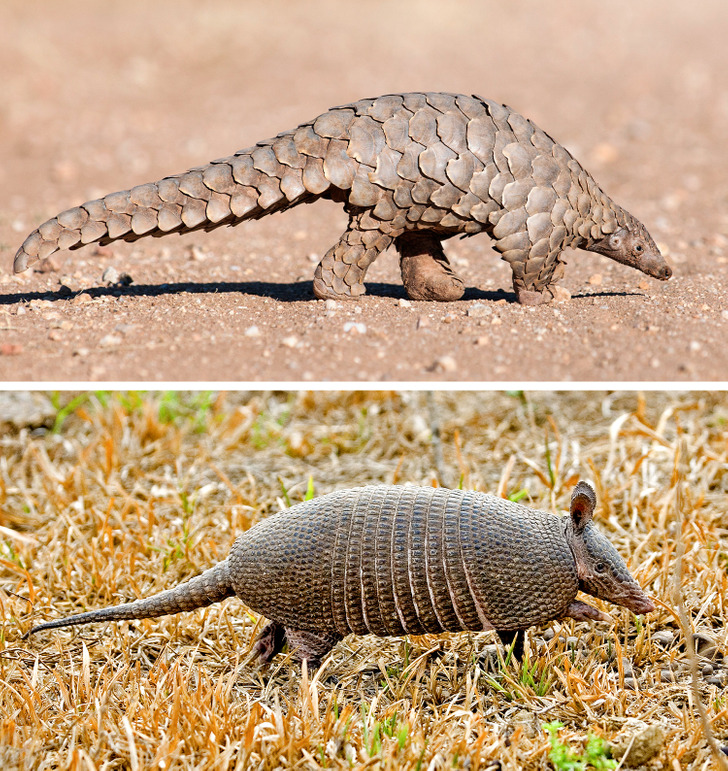 © Depositphotos.com, © Depositphotos.com
These animals are often mistaken for each other because they both have protective armors on their bodies. But, once you take a closer look, it's easy to see that a pangolin's armor resembles large scales, while an armadillo's has something that looks more like leather plates. In addition, armadillos have clearly visible pointed ears, while pangolins have ears that are very small and round, and some even have no ears at all, only ear holes.
10. Alligator and Crocodile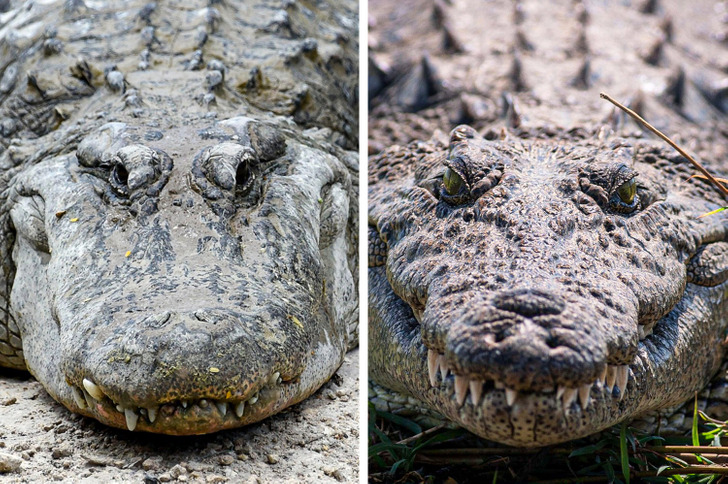 Over millions of years of evolution, both crocodiles and alligators have remained largely similar to each other. Nonetheless, they do have differences that are easy to spot. The most obvious sign is their snout. Alligators have a broad, U-shaped one, while crocodiles' snouts are narrower and V-shaped.
Another equally obvious difference is their teeth. When alligators' jaws are shut, you can only see their upper teeth, as the lower teeth fit into the recesses of the upper jaw. However, with crocodiles, both the upper and the lower teeth are visible, giving them a 'toothy' smile.
Are there any animals you still mistake for each other?